February 21st, 2014

I am currently reviewing stocks that are currently in a hot market, the industry of Oil and Gas is currently doing well with a oil price of $102,86 a barrel. However, my attention is not on the fact that you could start shorting the oil as it progresively reach new high, but about the Natural Gas who as spiked to a high of $6,25 mmBTUs (Million British Thermal Units) here is a article from CBC news.

http://www.cbc.ca/news/business/natural-gas-prices-hit-5-year-high-on-forecasts-of-more-cold-1.2543687

Here is the Future Contract chart of the Natural Gas, I am posting the March Contract since they are an asset that we can trade with the use of Futures, Futures Options or CFD's since these are easy way to trade the asset without buying the commodity itself. Natural gas are around $6,20 mmBTUs at the moment, once it reach new high it may be a option to short it. Though it may seems already spiked, look at the SPOT charts showed below on Natural Gas volatility since 2005. Remember some people live from trading Natural Gas alone and this is a fact I'm currently buying a book about it soon.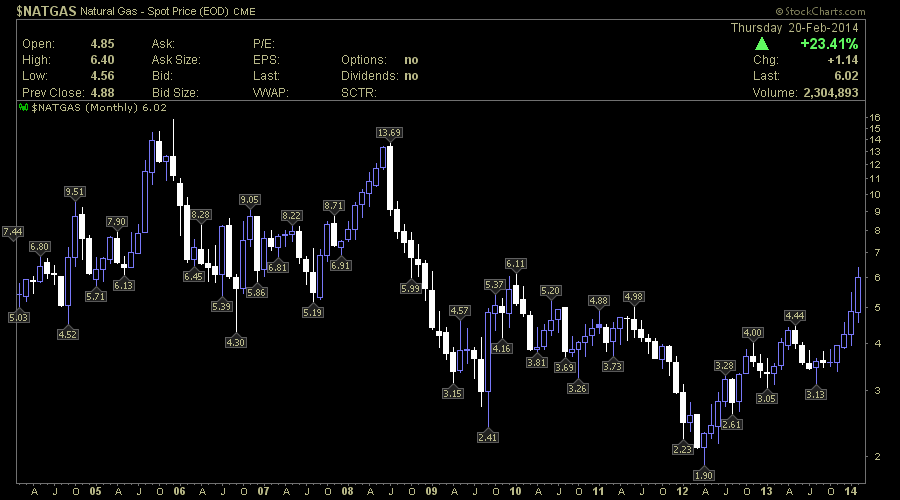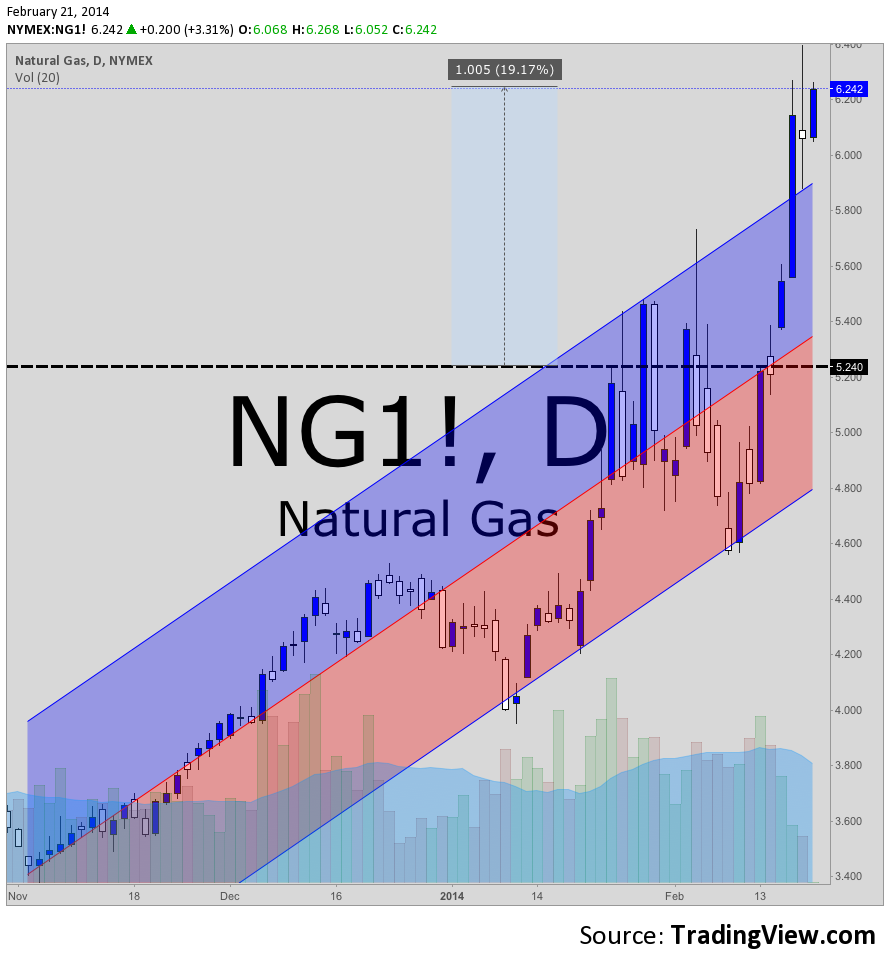 Now that you understand how stock market dynamics revolve around commodities prices, i'm reviewing a MegaCaps stock which i have identified a positive trend formation since the last 3 days due to higher natural gas prices.

Please refer to LargeCaps section to read a article on *CNRL Canadian Natural Resources Limited (CNQ).

Here is a MegaCaps company in the industry of Oil and Gas, it is Chevron (CVX), we believe we caught it on a new mid-term rising trend. All related anticipation are based on the optimist view of the market sentiment, if the S&P500 was to declining sharply, unless Gas Prices keep reaching new high it could cause a reversal trend, currently we have strong oil and natural prices so any fund managers are investing in this hot market.