February 22st, 2014

I'm quickly reviewing this Pennystocks Groupon inc. (GRPN), is the leading online coupon provider and is the most known by everybody. You can download their free apps from the Apple store or the Android Marketplace. This Stock is still classified as a pennystocks since it has a 52 week low of $4.24. Considering the current price of $8.03 a shares even if Groupon inc. have a Market Capitals of 5.36 billion it remain a pennystock until its 52 week low reach above $5. I remember when it was coming up on my screener at $2.75, i did not make a proper analysis on the securitie so i never bought in. However this stock have been reconized world wide since many CFDs provided has added it to their platform and CFDs provider must only add securities that have a safe factor ratio on the market. Please read this article to remain informed on the recent move of (GRPN).

http://www.bloomberg.com/news/2014-02-20/groupon-revenue-tops-analyst-estimates-on-stronger-mobile-sales.html?cmpid=yhoo

Here is the chart, from experience when net losses are behing reported the stock usualy dont rebound to new high right away... many strategist even short the stock at first signs of weakness. I'm just reminding you that 8$ ish seems like a good entry point but the news are not promoting investors to buy in. Keep this Pennystocks on your watchlist !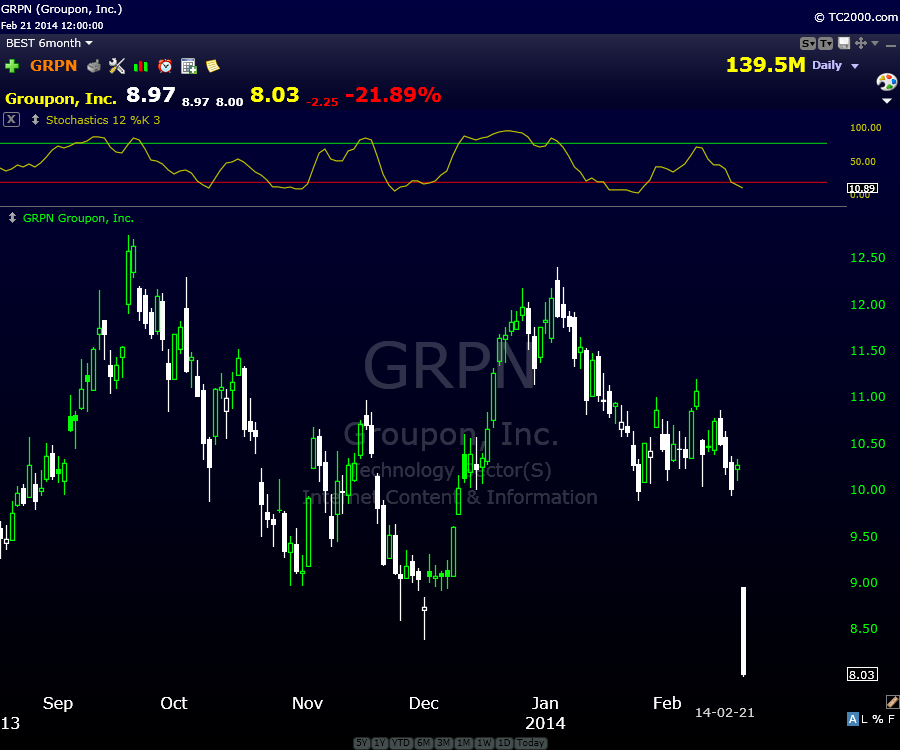 February 19th, 2014

Here again i seem to be posting pennystocks when they are Hyped, having said this on Friday 14th LiveDeal was already Hyped, and today it is sitting at $8.92 and when as low as $8.11, this is why we consider these companies pennystocks, because of their high volatility. However i will keep in mind that i often post on pennystocks that are already Hyped, so shorting them may be more appropriate.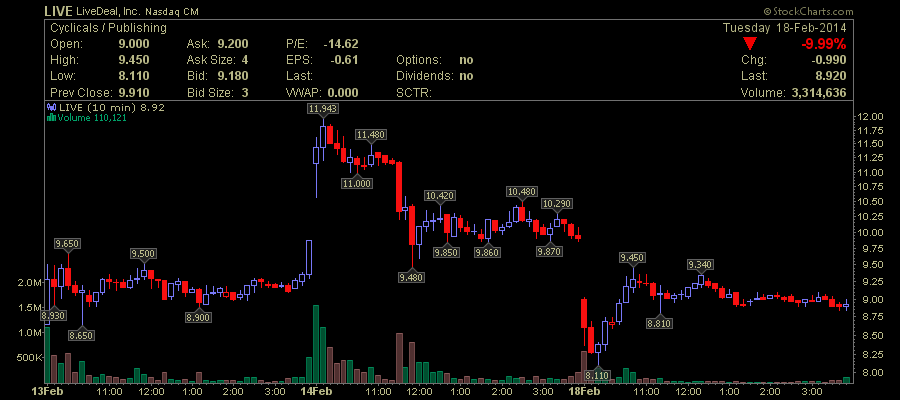 February 14th, 2014

I am reviewing LiveDeal (LIVE) since it had a stock reverse split completed on february 12th, 2014. The stock was showing a Strong Relative Strengh (as seen in the rentangle box on my first chart posted on Livedeal). We consider this pennystocks a Fundamental Pennystocks. After the stock reverse split it had a trading value of approx $7 per shares with only 11 millions shares outstanding, though they are expecting to re-issue 20 millions more for a total of 30 millions. Here is the link as a reference http://finance.yahoo.com/news/livedeal-announces-three-one-forward-143000562.html

Please read this Hot Breaking news about LiveDeal, the stock which was left in the $7 range is picking up popularity quickly as it is now trading in the 11$ range. Wait for a proper entry point level or take small position so that you can leverage your position if the stock drop slightly in the 9$ range. Remember you can always let it Hype and then take a short position within a short period of time.

http://finance.yahoo.com/news/livedeal-inc-taking-bite-big-140000645.html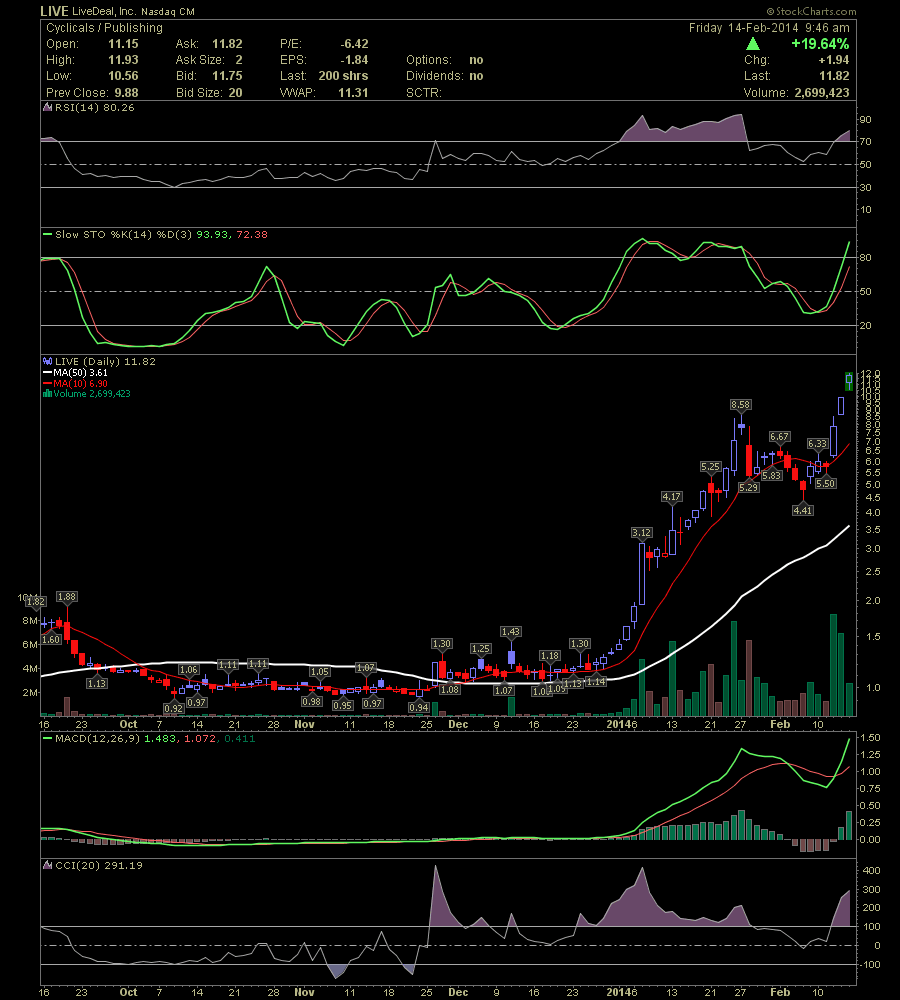 February 10th, 2014

I'm currently reviewing a short position on symbol : KONE (Nasdaq)

Here is a pennystock that was sent to subscribers of my newsletters. The stock volume spiked quickly over a revenue increase report. Though pennystocks are often Hyped because of large amount of traders who participate in the Hype, for traders all that matter is the volatility of the stock. However in very few instance pennystocks will remain at these high leveI. Having said this, i initiated a short position on (KONE) on January 18th. Here is the result and remember i will be reassessing time decay and position entry point on my next pennystock alert. Here is my review (below).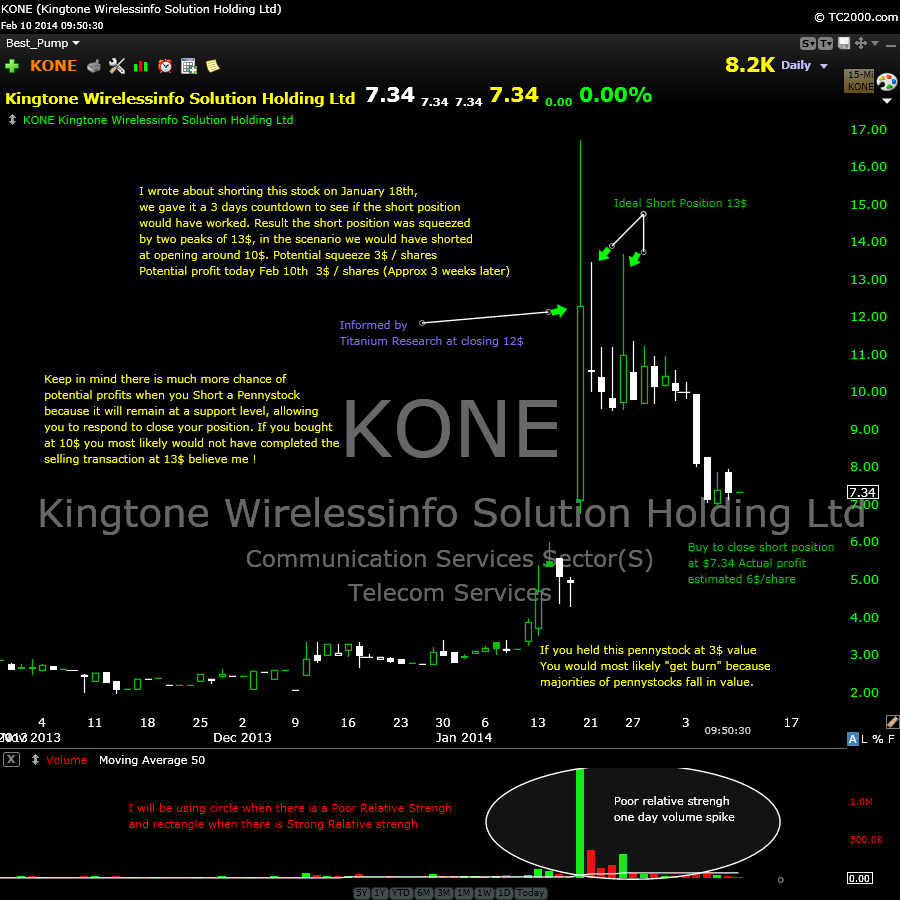 Last update : February 1st, 2014

Here is a quick review on a strategy that works with pennystocks

Once you understand the dynamics of pennystocks you will be able to make money trading pennystocks. Remember only 10% of your portfolio should be allocated for pennystocks.
Since pennystocks have very low liquidity they are often backed by newsletters promoters who receive a compensation for publishing good report on the company. As opposed to my blog on pennystocks who does not receive any compensation and is truly a independant accessment on market securitites.

Majorities of pennystocks are doomed to delisting from the Exchange, to begin pennystocks traded on the OtcBB are much higher risks then on Nasdaq. I have traded pennystocks for several years and believe me you do not want to hold them too long because they are highly volatile and most of the time don't have any support zone at all.

If you are going to trade pennystocks, as shown in the chart below, which does have strong fundamentals, you may be lucky and make profits before the Hype in the market. However majorities of the time you will find pennystocks that will Hype with very poor fundamentals. LiveDeal inc. (LIVE) on the Nasdaq have a enterprise estimated value of 79.46 millions (according to yahoo finance) and with a price share of $16.10 the company market capital is estimated at 60.97 millions. This quick analysis reveal that the pennystocks has hyped but most likely is backed by some serious revenues increase in the company. (as opposed to "pump and dump" pennystocks)

The pennystock who are backed by pennystocks promoters are the one you want to short sell. (a simple way to describ short sell is "borrowing the shares from your broker". When you borrow the shares from your broker, if the liquidity is available for the stock.Your broker may borrow these shares from other financial instutions. Your broker will also charge you a interest fees on the margin used to short the stock.) Once you found the available shares you can execute your short sell position. Let say you execute your trade ex: sell 4000 shares at price (x) in this case we will use the stock LiveDeal (LIVE) trading on Nasdaq shown below.

Now at opening today January 29th 2014, let's assume that we are off today and will be watching the stock price of LiveDeal inc. (LIVE) and at the highest point of the day (today) we will short sell our 4000 shares (used as a exemple). Remember if you borrowed 4000 shares you will have to buy them back to close your position and give these shares back to your broker.